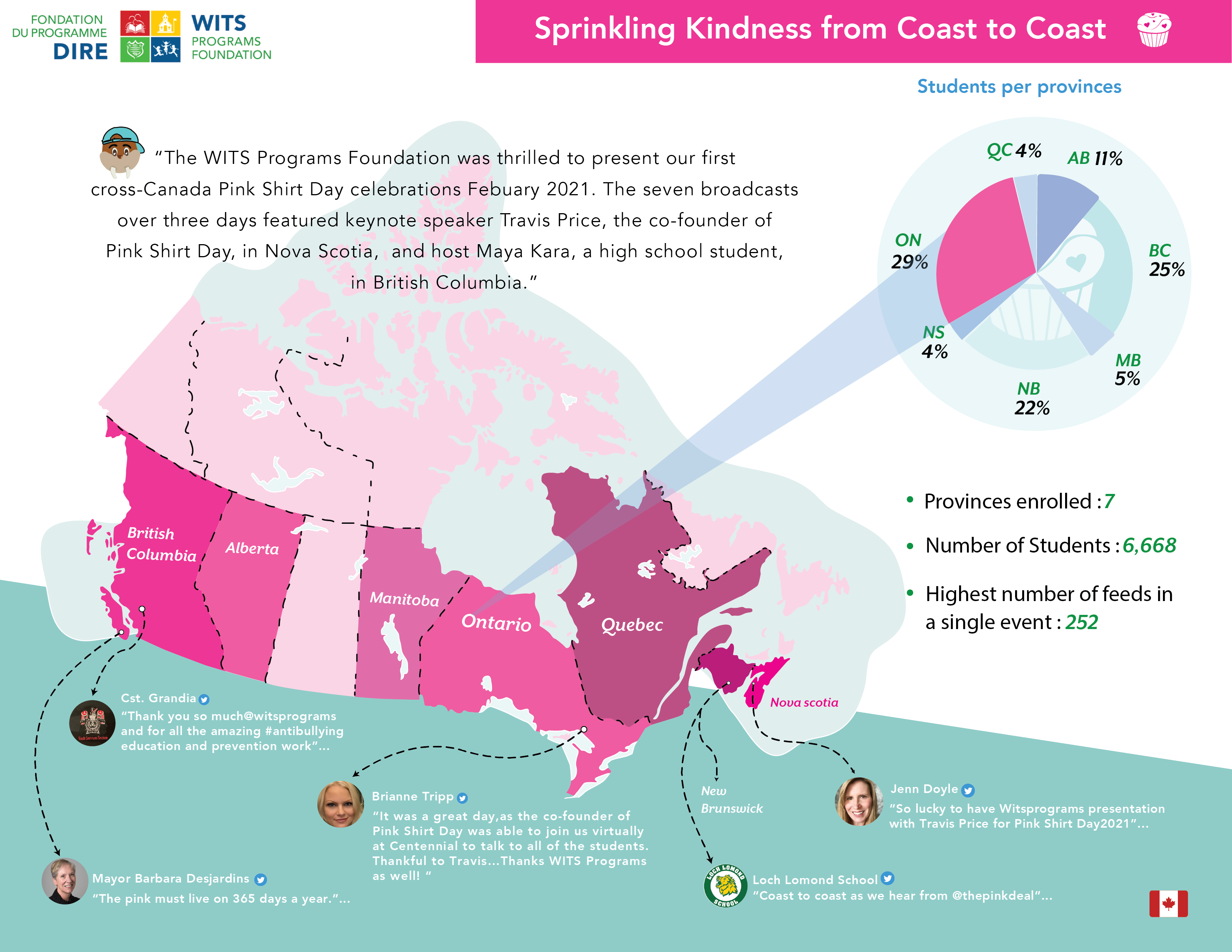 What we did in 2021
Thank you . . .
We had a great buzz on the 2021 Pink Shirt Day, but even more, it was a successful first-time online event.
We'd like to thank our sponsors, partners, and registrants for making the 2021 inaugural cross-Canada Pink Shirt Day online event a great success.
From seven provinces, students, teachers and, community leaders all joined with Travis Price to sprinkle kindness.
Please email exec@witsprogram.ca about sponsorship for Pink Shirt Day Canada 2022, and check back here throughout the year for updates.
In 2007, Berwick Nova Scotia classmates David Shepherd and Travis Price bought and distributed 50 pink shirts after a student at their school was bullied for wearing a pink shirt. With that act of kindness, Pink Shirt Day was born.
In recognition of the Berwick event, Nova Scotia proclaimed the second Thursday of September "Stand Up Against Bullying Day." In 2008, British Columbia proclaimed February 27 to be the provincial anti-bullying day, and the movement has continued to grown. In 2012, the United Nations declared May 4 as Anti-Bullying Day, and the last Wednesday each February is now the national anti-bullying day across Canada.
Thanks to Travis' tireless efforts over 13 years, many countries now recognize days to prevent bullying and promote kindness, and there are students who have heard the Pink Shirt Day message from kindergarten through graduation.
Travis continues to be a leader in the Pink (Shirt) Day movement, winning the Meritorious Service Medal of Canada for his work in bullying prevention and mental health advocacy.
Sprinkle Kindness
Your support will help encourage kindness and reduce discrimination and bullying
Check back when we're ready for registration of our 2022 events.
By supporting WITS, you're helping us reach our mission to promote healthy and safe communities.
The WITS Programs Foundation charitable registration number is 89138 2228 RT0001
Pink Shirt Day Canada is a presented by the WITS Programs Foundation. We encourage a whole-community approach to kindness, by engaging schools with programs like Canadian Kindness Leaders/Mentors canadienne en gentillesse and the WITS & LEADS programs in English, DIRE and MENTOR in French, and DIGA in Portuguese.
The WITS programs are proven to reduce peer victimization (bullying), and have been started in over 1500 schools in Canada and now also in the USA and Brazil. Over a hundred thousand children have learned to use their WITS to prevent bullying.
Our Sponsors
Thank you to our generous sponsors for their support in ending bullying and spreading kindness across Canada